Vidéos, images, description
Description

In A Galaxy Far... Far… Just Kidding!
Welcome to
'Spacelines from the Far Out'
a heavily comedic sci-fi party, co-op, rogue-lite, tycoon, space sim, almost an action RPG (is that too much?!) game that blends the golden era of air travel with the utopian space age of the '60s!
An original richly detailed sci-fi universe filled with all the annoyances you've come to expect from being in the commercial Spaceline industry, including but not limited to...
Serving incredibly bad food, performing dance-offs, random encounters of the 5th kind, repairing broken equipment, dealing with gravity loss, piloting 101, vomit puddles, floating vomit puddles, hull damage, space hazards (no moon wizards), so many asteroids, lack of fuel, various paid entertainment features, price hikes, and the Inspector!
What happens when you take the 1960's and put it in Space? Well, you get Spacelines from the Far Out!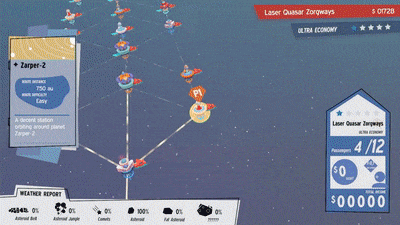 From the World's Fair to 'It came from Outer Space' cinema types of the times, we've taken a great deal of inspiration from the best of 60's Sci-fi!
Time to Customize! Space doesn't need to be boring!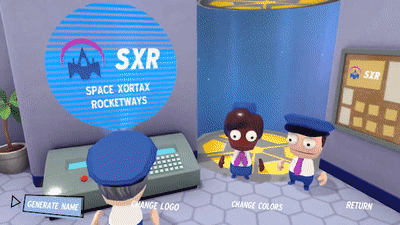 With tons of unlockable ships, various upgrades, playable characters to collect, and more, you'll have everything you need to make your Spaceline your own!
No One Said This Was Going to Be Easy…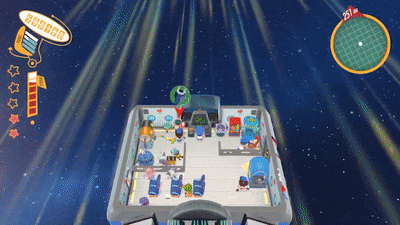 With tons of mechanics in store for you to master (or survive) such as piloting, repairing, cleaning, cooking, dancing, hacking, and ensuring happy passengers, you'll never be bored!
A Space Odyssey Adventure for You or with up to 4 Friends!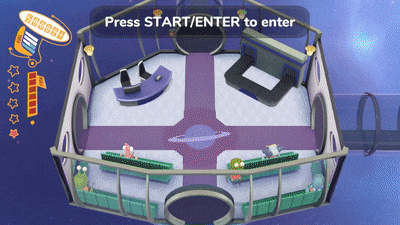 With a robust AI Director at the game's core, you'll always have a unique playing experience be it alone or in 4-player co-op mode with your friends!

*Disclaimer- Passengers may experience the following situations:

Astronomical ticket prices, undercooked food, delayed luggage, lost luggage, damaged luggage, theft of property, space piracy, alien abductions, time dilation, meteorite strikes, asteroid collisions, black holes, life and death situations, sarcastic robots, and oh so much more!

If you experience any of the following annoyances, contact the nearest Inspector immediately via our Discord


COMMENTAIRES DES UTILISATEURS (0)