Vidéos, images, description
Description
The popular classic of the Vienna tramway.
The E1 is the last Viennese streetcar in classic drive technology with speed steps, starting resistors and series and parallel connection of the motors. The Geamatic automatic controller, which electronically selects the appropriate speed step, is installed to support the driver.
With 338 units built, the E1 was a dominant feature of the cityscape for many decades. The E1 is an improved version of the Type E with a more powerful engine. It was built from 1967 to 1976. Although the first retirements began in the 2000s, the last examples are still in passenger service until at least 2022. Many retired E1s have found a second home in the Netherlands, Poland, Romania or Hungary.
The type c3 sidecars were built from 1959 to 1962. Initially, they were intended for use behind two-axle cars, but later they were converted for use in a train set with E1s. The last use of the type c3 took place in 2017.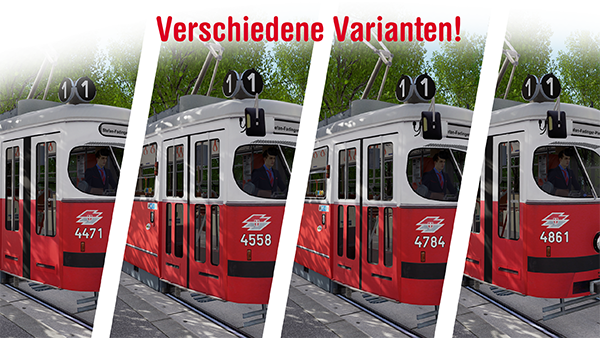 Technical data E1
Year of manufacture: 1967-1976

Power: 2x 150 kW

Seating capacity: 39

Standing places: 66

Baby carriage places: 2

Car width: 2,2 m

Car length: 20,3 m

Empty weight: 22,5 t
Technical data c3
Year of construction: 1959-1962

Seating capacity: 32

Standing places: 43

Car width: 2,2 m

Car length: 14,67 m

Car empty weight: 11.6 t

Due to the long construction time, there are many different equipment variants for the E1. There are 2 door designs, 3 window combinations and 2 interior lighting designs, all of which are assigned to matching car numbers.
Vehicle generation type E1
Vehicle type E1 solo

Various designs of the vehicle generation E1
- 2 door designs
- 3 window variants
- 2 interior lighting variants
- Matching car numbers for all designs

Articulated railcar E1 with sidecar c3
Vehicle details:
Repaintable

Authentic soundscape

Realistic driving behavior with Geamatic driving switch control system

Complex animations and many details

Complex setup and teardown procedure

Complex control for advanced players possible

Target change function

Realistic implementation of the holding brake and sidecar controls

Shunting function solo as well as with sidecar (especially with deckman function)
COMMENTAIRES DES UTILISATEURS (0)