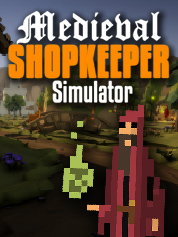 Medieval Shopkeeper Simulator -
PC
Standard Edition / Boite ou téléchargement
Date de sortie : 31 décembre 2017
Vidéos, images, description
0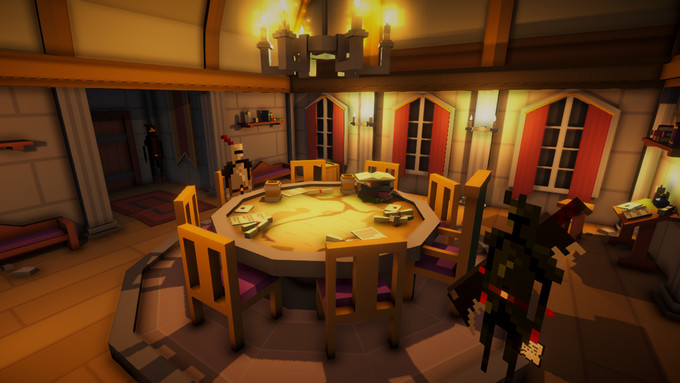 Description
Medieval Shopkeeper Simulator is a medieval management, exploration and adventure game currently under development by Breakfast Studio.
Manage and expand your merchant empire in the kingdom! Medieval Shopkeeper Simulator is set in the Middle Ages, in which players must explore the borders of the world and properly manage their stores and objects to become the most important merchant in the kingdom.
In this adventure, the player will use his skill as a merchant to buy, bargain with customers, and deliver orders to different houses, altering the economy of the kingdom and its laws. Recipes can be marketed or become tools and decorative objects of greater value or to customize your homes and warehouses.
Features:
● Manage your stores, from ordering objects to setting prices.
● The world of MSS reacts to all your decisions, including prices, support for the crown and the church and the reputation of your stores.
● Unlock new skills and advantages by praying in the church, including the ability to create new objects, be better at haggling prices and the ability to manage the kingdom at your whim. Always with its clear consequences...
● Combine components and objects to create higher-value stock and exchange or sell them.
● Modify and order your employees to work one way or another depending on your style of play.
● Depending on the king or queen that governs, there will be laws that will suit you more or less depending on your financial strategy.
● Hire warriors in taverns, choose the ones you like the most and send them to great adventures.
● During the course of the game, new events will appear that will change the way you play. For example, a global illness or a neighboring war.
● You can go from house to house fulfilling your previously accepted orders to get money or unique items.
● Visit the visionary to reveal future events and hire their services to change them.

Medieval Shopkeeper Simulator is an early access title that is in the alpha stage of development. This means that the essence of the mechanics of the game is in operation and is unlikely to change, but I still have a lot of work to do to achieve the world I imagine. Now that we move to the alpha stage, you can expect the following content in the coming months:
More real laws: For now there are only a few types of laws such as the prohibition of the sale of some objects. In the future, each king/queen will be a unique event that will have a lot of weight in the balance of the game and your way of playing. (Second quarter of 2018).
Customization of houses: You can combine different models acquired in the architect to create your dream house. (First quarter of 2018).
Storage refactoring: The management of objects will become a totally new and improved game mechanic: players can organize their stock of objects as they wish. Do you need more space to store objects? Buy and improve an empty warehouse in the city. (First quarter of 2018).
Kingdom 2.0: A new generation system by a procedure that will improve performance and allow you to explore in each game a new, different kingdom. These new realms will contain more diverse buildings, specific events, more characters and much more. (Second quarter of 2018).
Climate and dangers: A totally new system that challenges players during the gaming experience. Confront the environmental effects by preventing them or fighting with different global diseases and neighboring wars. (First quarter of 2018).
In addition to the features already mentioned, you can also find these disadvantages in the alpha version of the Medieval Shopkeeper Simulator:
Bugs
Freezing
Loss of saved games
If the essential game mechanics is attractive and you want to give your support to Medieval Shopkeeper Simulator while you are in early access, we would love to have you. Otherwise, we recommend waiting until MSS exceeds the alpha stage when the game is more stable, and the game mechanics are more developed. I am committed to converting Medieval Shopkeeper Simulator into the best possible game, and your help during this early phase of development is crucial for us to achieve our goal.
If it intrigues you to know where we will take Medieval Shopkeeper Simulator, consult our roadmap and the development vlogs that I publish several times per month.
COMMENTAIRES DES UTILISATEURS (0)