Vidéos, images, description
Description
The demo is out! Try it with your friends! (Details at the bottom)
---------------------------------------------------------------------------------------------------------------------------------------
----If you tried our game, have some ideas or want to give some feedback. Join our Discord Channel:
https://discord.gg/Q56b57v
---------------------------------------------------------------------------------------------------------------------------------------
Start your journey with adventurers all over the world, search for countless treasures in the lost island, but only the ones with strongest mind and courage can take them out alive. Outsmart your "companions" and become the wealthiest adventurer alive.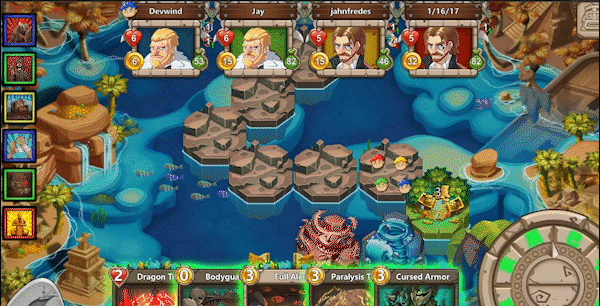 Best of both worlds
Unlike any traditional card dual combat, this game that is a perfect mix of an intense strategy TCG and a quick fun-filled board game. You play with 3 opponents on a lost island, each turn an random event will occur, it could be an attacking monster, a hidden treasure or a looming disaster, and you take advantage of them by using the cards in your deck. You win by having more coins than other players at the end of the match.
Features
Fair. No pay to win. You have to earn all your cards through playing the game. Even though having more cards do give you more flexibility on your strategy, this game is more about how to outsmart other players rather than how strong your card is, as long as you know what you are doing, you have a chance at beating even the top players.

Fast-paced. You all start and end your turn at the same time, which requires quick decision making and a strategy in mind. No more waiting for your opponents's turn while looking idly at your screen!

4 Characters to play. A recluse alchemist who turns stone to gold, a banished deceiver that dives into your pocket, a desperate mercenary who would do anything for coin and a blood lust witch doctor that thirsts for forbidden magic. Each character has their own unique set of cards, use them wisely, and you may find your way to victory.

Different means to win. Although the end goal is the to have the most coins, sometimes killing the right opponent, making the right choice or escape at the right time can be as important as executing every strategy in your deck.

Two types of decks to customize. Not only can you build your hand deck like any other TCG, you can also build an "island" deck that shows up on the board that could affect your game plan.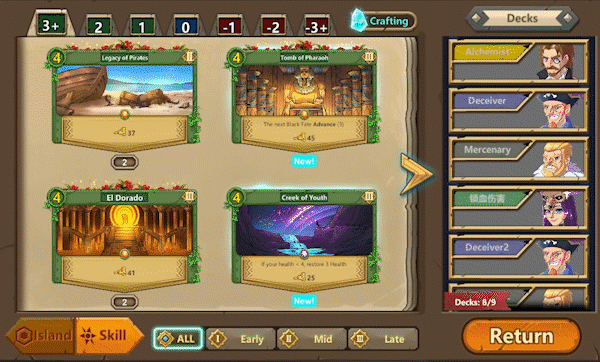 About us
We are a small indie team of three ex-EA & Tencent developers who are trying to create something different and new. Inspired by a fun board game called Incan Gold, we spent a year fusing its mechanics with TCG with an added layer of deep strategy and less RNG, while maintaining its fast-paced nature and quick jugdement based gameplay. We are confident that this is very different from anything on the market and we hope you would enjoy it as much as we do.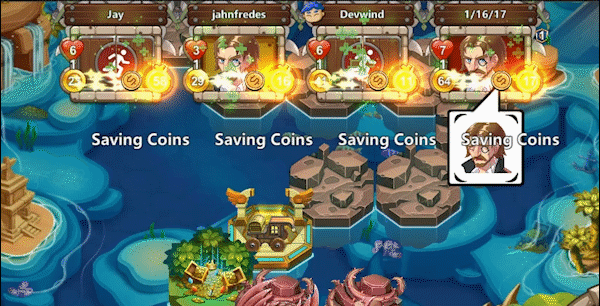 Here are the differences between the demo and the complete version:
You can't play Ladder Mode after rank Rookie

You can only create custom room 3 times (but can join unlimited times)

You can open 20 packs in total

Your data will by synced after you purchase the complete version.
COMMENTAIRES DES UTILISATEURS (0)