Vidéos, images, description
Description
Unexplored 2: The Wayfarer's Legacy is a roguelite action-RPG and prodigious sequel to the critically acclaimed indie gem, Unexplored. Leave the Dungeon of Doom behind and venture into a vast, wondrous world as you embark on a heroic quest to destroy the mysterious Staff of Yendor.
Explore beautiful landscapes and discover hidden marvels. Encounter magical creatures and dangerous foes. Make brave choices and put your faith in good fortune. Featuring a unique legacy system, advanced procedural generation technology, and rich, generative storytelling, Unexplored 2: The Wayfarer's Legacy is an adventure like no other.

Unexplored 2: The Wayfarer's Legacy is a completely different beast than its predecessor. With Unexplored we experimented with new ways of generating procedural dungeons. We wanted levels to feel as though they were designed by hand, rather than by an algorithm.
The experiment succeeded beyond our expectations and we're extremely proud that our humble indie game has received widespread recognition from critics. Most notably, PC Gamer, Rock Paper Shotgun, and Vice Waypoint all featured Unexplored as part of their respective Game of the Year articles.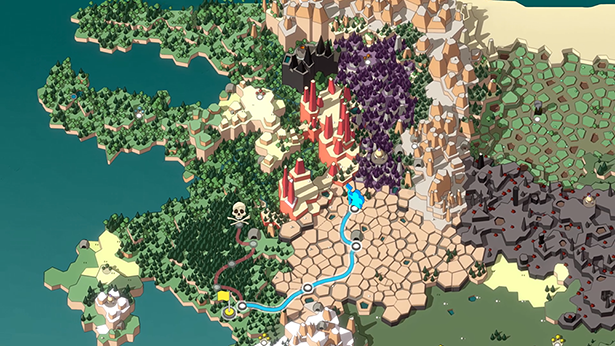 With Unexplored 2: The Wayfarer's Legacy, by using both new and improved development tools/technology, the introduction of an array of original features and mechanics, and by applying an eye-catching art style, we're continuing to build on the solid foundations we established with the development of the original Unexplored.
So while the sequel will, like its predecessor, be able to deliver unexpected surprises after hundreds of hours, it will be a much richer, more immersive, and even more expansive experience. We want players to escape into a world that has a real sense of exploration and wonder, with captivating stories and adventures unique to every different hero.
Okay, we're starting to sound like the marketing department again, but we actually have more than a few ideas on how to achieve those goals.

The most visible leap forward in Unexplored 2 is, well, the visual style. We set out to create an art style that makes you feel like walking through illustrations, that spark and complement the wonder of a good journey.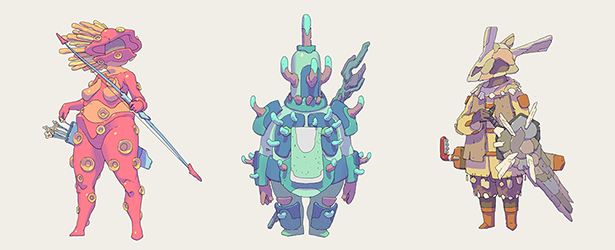 The art style should work seamlessly with our procedural generators.

The top-down view may not give us the chance to create grand vistas that disappear into the horizon, but it does help the player to read the environment, and inform them how to position themselves tactically in a fierce battle, or how to solve a puzzle.
We're especially proud of the way the heights and depths of the environments are turning out. This is the reason we chose to go with 3D in the first place. In general, the art is descriptive and representative, but leaves enough space for the player to use their own imagination.

In The Wayfarer's Legacy you won't be descending ever deeper underground, as was the case in the original Unexplored. The ultimate goal of Unexplored 2 is to destroy the Staff of Yendor, and it's a quest that can only be completed by venturing outside. You travel through forests, valleys, mountains and, yes, into the occasional dungeon.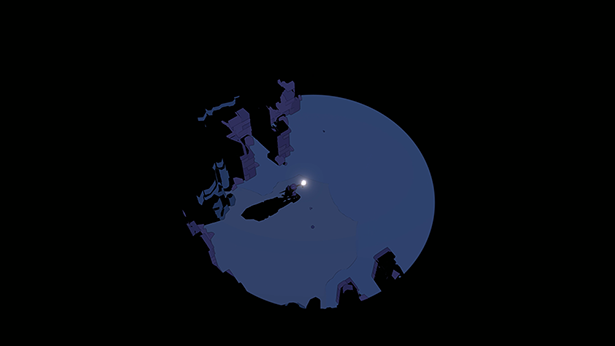 Most importantly, we want you to feel like an explorer, a true adventurer. You have to plan your trip carefully and be constantly aware of your surroundings. Do you have enough provisions to venture through a desert? Are you ready to confront magical beasts you may encounter in the mystical forest ahead?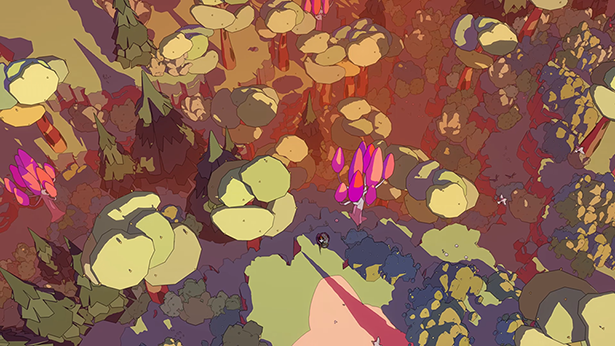 The world is inhabited by creatures and people, both friendly and hostile. They're impacted by your actions, seasonal changes and interactions between themselves. In The Wayfarer's Legacy, the world map is an important source of information.
We're taking Unexplored's successful approach to procedural generation and applying it to many more parts of Unexplored 2. We're building separate systems for world creation, level generation, generative storytelling, and gameplay such as environmental puzzles and combat situations.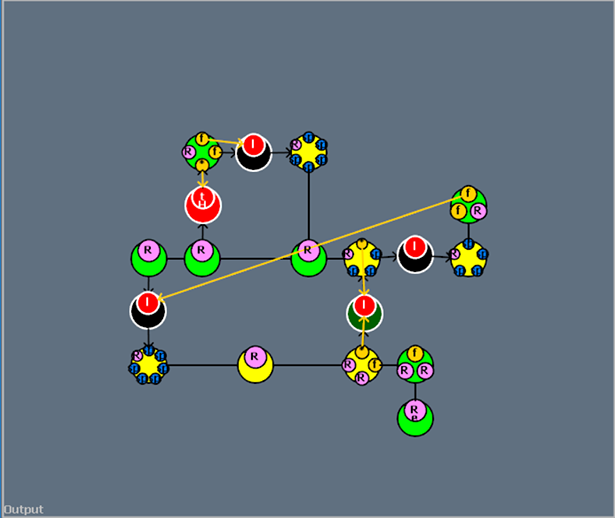 Our game director, Joris Dormans, is an expert in the field of procedural content generation. He's the creator of several tools that thousands of game developers use on a daily basis.
Joris used his knowledge to build Unexplored, which is lauded for its impressive dungeon generation and multi-level sub-quests. All of this experience is now being applied to the many systems that make up The Wayfarer's Legacy.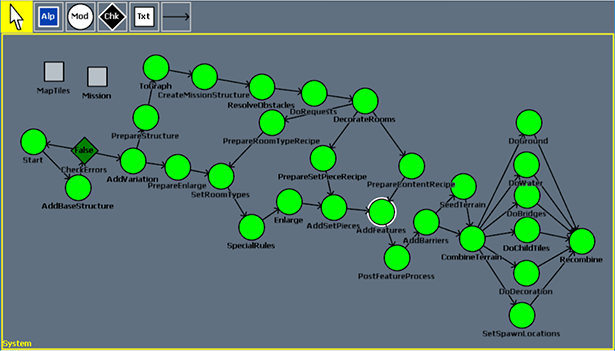 During the course of Unexplored 2's development, we will irregularly provide insights into these advanced procedural systems.

Unexplored 2 is subtitled The Wayfarer's Legacy for a reason.
We're trying to strike the right balance between suspense and fun. The suspense is delivered in the form of a roguelite staple: permadeath. When your character dies, there's no checkpoint to return to, no save game to restart, it's over. Your character is dead and stays dead.
However, the legacy system in Unexplored 2 means that, when you start a new adventure with a new hero, you can choose to continue playing in the same world. You start the journey anew, but this time you know more about the world and the challenges ahead. You know which areas to avoid and which areas you should definitely visit. And perhaps you know where to find a particularly strong weapon, because your previous character helpfully left one somewhere for you to retrieve on a subsequent run.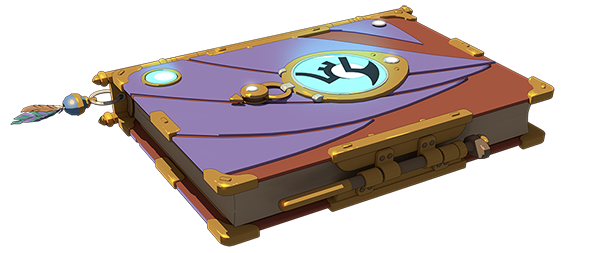 But a word of caution – the world continues after the death of your last hero, and their actions have lasting consequences for new adventurers following in their footsteps. For example, if your previous hero vanquished a pack of wolves near a village, you may find that the settlement is now thriving and they have some useful wares to sell that will help on your quest.
However, if they chose to spare the wolves, the village could be completely deserted and, in-turn, there will be no valuable items for your hero to purchase, making the way forward more challenging.
It will also become progressively harder to complete your quest in a world that's been visited multiple times. This is because the imperious forces of the Empire will, slowly but surely, take a stranglehold over the land. Unless you can stop them. Either way, there will always be the option to start a new adventure in a new world, ripe with new challenges, new stories, and new lands to explore.

For the Wayfarer's Legacy we're creating an intricate system which allows us to use the adaptive music in subtle ways like foreshadowing and emotional story beats.
The composer is Matthijs Dierckx, who also created the soundtrack for Unexplored. He applies a musical style inspired by the works of Joe Hisaishi, Nobuo Uematsu, and Jeremy Soule.
Listen to excerpts from the soundtrack for Unexplored 2: The Wayfarer's Legacy on
Soundcloud.com/matthijs-dierckx

Unexplored 2 is developed in cooperation with our publisher, Big Sugar. They're funding the development and support us in crucial areas like community management, marketing and PR.
COMMENTAIRES DES UTILISATEURS (0)