Vidéos, images, description
Description
Relax as you build your ever-expanding galactic transportation empire.
In Space Transport Tycoon, you are a tycoon of a space freight company. Ship the goods each planet produces to the planets that demand them to earn money. Use your funds to add more ships to your fleet and expand your reach to new solar systems.

Research new technologies to unlock better ships and higher-quality planets. Planets can be upgraded to produce goods faster, and to produce new, more expensive goods, but they will also have additional demands. You need to meet all the demands of a planet to upgrade them to a higher level tier, making it a challenging but rewarding puzzle to slowly evolve your network. Build an increasingly complex web of trade routes and create the largest trading empire is the known universe.

Planets produce goods on a timer, depending on the value of the item and the level of the planet. Once you've built a trade route, set up your import/export options, and placed a ship on the route, that ship will automatically run that route for you forever, constantly bringing in money for you to use in other parts of your expansion. These routes need no maintenance, and the resources never expire, so any changes you make are your own choice.
Once you've set up your network, kickback, and watch your empire automatically generate money for you as you plan your next addition, at your pace.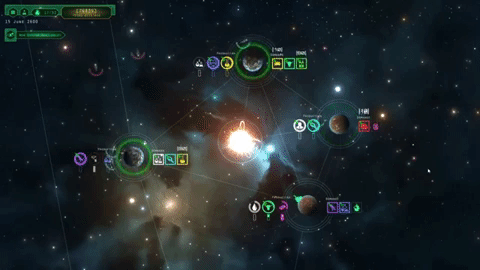 The mechanics of the game are straight forward, build a trade route from one planet to another, shipping a produced good to a planet that demands it. However you can't build trade routes crossing an existing trade route, and you only have a limited number of ships. You soon start to build routes that have multiple stops. As you upgrade your planets, you need to start transporting new goods across an established dense trade route system to planets that weren't connected before, and are nearly impossible to connect now. You'll be picking up and dropping goods off many stops before it finally makes it to it's destination. Deciding how to allocate, and transport, limited resources in an dense ecosystem is a challenging puzzle that is sure to entire for hours and hours.

In order to acquire new technology, you will need to build and consume technology tiers. Technology is a special good that requires you to manufacturer it at a planet by combining other goods first. These items, while more complex to build, will be well worth the effort by giving you points to spend in the technology tree, unlocking additional ships, features, and planet levels.

• 45 Goods
• 5 Technology Tiers
• 7 Ships
• An Infinite Experience
COMMENTAIRES DES UTILISATEURS (0)