Vidéos, images, description
Description
Easy Pose is a human body pose app for people who draw or is learning to draw.
Easy Pose is a human body pose app for people who draw or is learning to draw. Have you ever wanted a personalized model to show various poses while drawing animation, illustration or sketching? Easy Pose was developed for these people. Various angles of different poses can be inspected. Now you do not have to draw with a wooden joint doll or figure as a model. Even yoga or exercise poses can be checked from various angles. Easy Pose has collected over 8.7million downloads from Google Play and the Apple App Store recognized for its excellence in functionality, and it has been selected as a referral app many times. In addition, it also advanced to the finals in the field of innovation at "Made with Unity 18".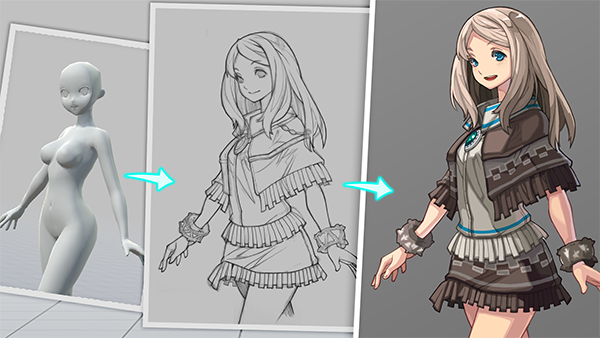 - Easy Pose is incredibly convenient and easy to handle every major joint one by one. It is equipped with various functions that cannot be conducted by existing pose apps such as providing the highlight for current moving parts, initialization by joints, and symmetrical posture by introducing left and right reversing function.
- The existing pose app is made up of a wooden doll or a well-proportioned man and woman with real-life body shapes. Therefore, it was somewhat inappropriate for those who draw cartoons, webtoons, and game illustrations. Easy Pose has models with various body shapes such as cute men and women with 3 heads body proportion, men and women with 6 heads body proportion, men and women with real-life body shapes, and well-muscled men.
- You can create a variety of interesting situations by putting multiple models on one screen. You can create scenes where many people participate such as soccer players avoiding tackles, scenes where men and women dance with hands together, and students studying in the classroom.
- We have more than 200 poses of various materials such as sports, combat, etc. including poses which are commonly used for those who have difficulty in operation, and we are constantly updating. And Select the hand of the model and press the 'Hands Pose' button. You can adjust the direction of the fingers and the degree of bending of the joints. For some models, such as dragons, you can edit the wings.
- We provide a variety of props, including weapons, shapes, and training aids, so that you can create the necessary display and situations. They are available in the accessories menu at the bottom of the main screen. Also, you can make the model wear hair, glasses, shoes, weapons, and shields by clicking the model's hands and head.
- We offer a variety of vehicles on which models can be boarded. In the launching version, we will offer bicycles, horses, and dragons, and we plan to add other vehicles through the update and DLC. In addition, we offer dedicated pose, jointed operation slide, and animation for all the vehicles!
- We provide various kinds of animation such as daily life, dance, sports and so on. You can see intermediate movements that cannot be seen in the paused state, allowing you to draw expressive pictures.
- 'Easy Pose' has many features to help you finish your pose nicely.
1) Strength and direction designation of direct light and back light.
2) Observe at various angles using camera.
3) Realistic shadow expression.
4) Adjustable angle of view. (Provides an exaggerated vanishing point like a panorama.)
- Provides various functions to draw pictures easily.
1) Resource grouping.
2) Coloring.
3) Copy and change models.
4) Wire and box mode.
5) Autosave.
6) Save only the appearance of the model as a PNG file without background.
- Supported Languages - Supports Korean, English, Japanese, Russian, Spanish, Portuguese, Simplified Chinese, Traditional Chinese, Indonesian, Arabic, German, French, Finnish. We also plan to support other languages through updates if you ask.
- If you find words and phrases that need to be corrected in Easy Pose, please take a screenshot and send us an email with the content to be corrected.
- Easy Pose PC version includes mobile version of Pro version and all DLC.
COMMENTAIRES DES UTILISATEURS (0)