Vidéos, images, description
Description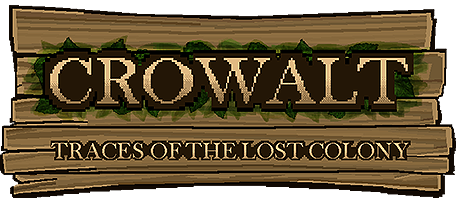 Crowalt: Traces of the Lost Colony is a narrative adventure which is merging the traditional storytelling with modern-day pixel art graphics and dynamics. The choices you make will affect the course of events and you will draw your own path in this little and also mysterious town.
CHASING A MYSTERY THAT IS UNEXPLAINED FOR 150 YEARS
A group of people who set out to establish the first settled colony in America in 1587, mysteriously disappears after arriving. They leave only an island name carved on a tree: "Crowalt".
Now, the year Is 1737.
A young and ambitious adventurer Hugh Radcliff pursues the Lost Colony to make his first great discovery. Now, different people live in Crowalt, where he came to solve this mystery. He will hover around the island and definitely will get in a series of troubles to find what happened to the Lost Colony.
If he can manage to solve this mystery, this is going to be his first big exploration.
Features
Collect and combine items

Solve puzzles

Follow your journal

Make deductions

Make choices
BE AN ADVENTURER AND SHED A LIGHT TO THIS MYSTERY
COMMENTAIRES DES UTILISATEURS (0)