Vidéos, images, description
Description
Citadale - Episode 5 - The Awakened Spirit
The lands are at peace, after ARION DORLEAC defeated the dark lord Rhogul and his right hand demon, the Incubus, in battle four years ago. During these times of plenty, Arion found himself a feisty young woman to fall in love with - somebody he considers to be his equal and best friend alike. She is also his type, that helps, too.
As they prepare for their vows, their wedding is overshadowed by dark clouds as the Succubus, sister of the Incubus and mistress of Rhogul arrives from Citadale island, taunting Arion and forcing him to head to CItadale island and face her in battle, as she thirsts for revenge. Thus, Arion must pick up the Shadow Blade, the legendary weapon that once vanquished the evil Rhogul from these lands and head out into danger once more.
Little does he know that there is something much darker at play...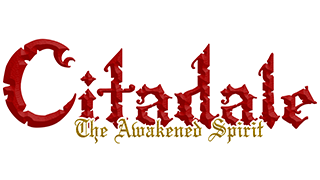 Citadale: The Awakened Spirit is the direct sequel to the previous title (The Ancestral Strain) and further moves the series away from conventions and inspirations of the past into new territory. A mix between an action game and a metroidvania, you will explore Citadale island as you please, finding items and fighting enemies. You shall search for entrance doors into the various stages - those are linear, hard, action styled levels capped by a powerfull boss monster. Only after you defeated these beasts will the true way into the castle open.
But beware: although Citadale island is an open exploration environment, the stages within are hard, long and exhausting. Just the way the Succubus likes it!
-------------------------------
Arbitrary List of Features:
Bigger, better, bloodier - Citadale at its finest

An actiongame with a large serving of Metroidvania

Revamped level mechanics make each stage unique

Adjusted and refined player speed and attack range

The new checkpoint system helps you on your way - for a price!

Tackle the segments in any order you like - or discover

Brand new music, stages, enemies and bosses await
-------------------------------
Controller Information:
Due to limitations with the engine, some controllers, for example 8bitdo gamepads, may not work properly. There is, unfortunately, nothing I can do about that. Should you have any trouble with your gamepad, maybe try another gamepad or use the keyboard. I apologize for the inconvenience.
COMMENTAIRES DES UTILISATEURS (0)