Vidéos, images, description
Description
No Place for the Dissident
is a strategy political simulator. You'll be responsible for the creation, growth, and adoption of a new ideology to dominate the world. But be careful, as your ideas gain traction, some will alert about its danger. The opposition will rise, and, if not controlled properly, it will wipe out your influence.
Ideologies have shaped the world, will you be able to shape it as you want?
In
No Place for the Dissident
, you'll have to spread a new ideology to dominate the world. Whatever means are necessary.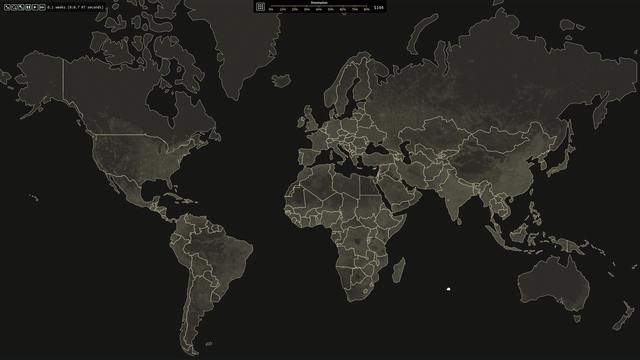 Realistic Political Simulator
The
No Place for the Dissident
engine is able to perform a worldwide simulation with hundreds of thousands of points. The engine tracks your influence in each bit of the world, and each bit will interact with the rest.
Influence is divided into five types, which unique attributes:
neutral, supporters, violent supporters, opposition, and violent opposition
.
To manage the result, you'll be able to improve some of
five different traits
, per country, and globally, to dominate the world:
Expansion. Expansion determines the ease of converting neutral people to supporters.

Conversion. Conversion determines the ease of converting opponents and violent opponents to supporters and violent supporters.

Polarization. Polarization determines how likely people will be polarized from supporters to violent supporters and from opponents to violent opponents.

Censorship. Censorship reduces the likelihood of people reacting negatively to your ideology.

Terror. Terror reduces the likelihood of people staying as violent opponents.
On top of that, you'll have to deal with
finance
,
government control
,
wars
,
civil wars
, and more!
Many actions!
In each country, you will be able to activate different actions (based on adopted politics, influence on the country, the government of the country, and money). Write books, make peaceful protests, manipulate through TV, newspapers, fake news, and social media, create associations, create militias, lead coups, repress opposition and even declare war to enemy countries where your ideology didn't do well.
Your Own Ideology
Adopt new politics from the ideology tree to exponentially expand your ideas and crush the opposition. How will you dominate the world? Adoptions of new politics will unlock bonuses and new actions to perform on each country.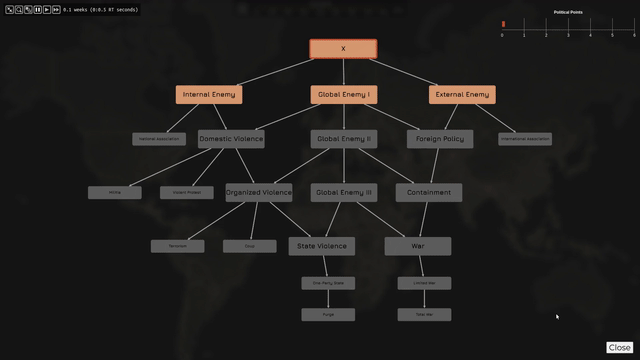 195 Countries
The entire world is the goal. There's no room for partial victory. Manage each country, prioritizing populated and rich countries, to conquer the world.
Multiplayer
Compete with other players and friends for world domination.
See the consequences
At the end, you'll progress will be shown, along with all the consequences your actions made. Will you be able to win without death? Or will you be responsible for one of the bloodiest revolutions throughout history?
Warning
This game includes dreadful and extremely violent motifs. It also contains quotes and points of view of the most violent historic figures.
Millions of people have suffered the ultimate consequence of these beliefs.
We, the developers, consider that this should be reason enough to reflect on it.
COMMENTAIRES DES UTILISATEURS (0)